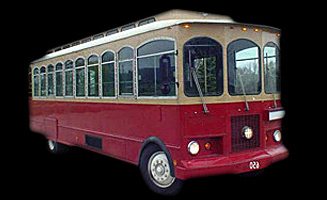 Dolly the Trolley
Tom & Joan Suchuster
6/2/16

We want to thank you for the wonderful time we had riding Dolley the Trolley at our daughter's wedding on Sunday. The chauffeur (I believe he said his name is Robert) was very professional, courteous – and talented. He had to back into the long driveway at the chapel, and he did it just as easily as if he were going forward. The trip from Auburn to Geneva was great, the champagne toast was terrific, and I'm running out of adjectives to describe the good time we had. I invited my parents to ride with us, and I haven't seen the two of them have so much fun in a long time. Again, thank you for a wonderful experience, and I would highly recommend your service (especially Dolley the Trolley) to others.
Nancy Hall
1/17/17

Debbie, I wanted to thank you for getting us Dolley the Trolley for my daughters wedding on Oct 20. The bride & groom & the entire wedding party had a great time riding around Canandaigua in it. I know the photographer got some great pictures.
Also, Lindsay, Pete & several members of the wedding party commented on how great the chauffeur, Mike, was, very attentive to all their needs. He made the day even better for them. He even helped my husband with his tie. Thanks again!
Cris R
Upstate NY - 10/7/17

I was part of the group on Dolley the Trolley with Michael this past weekend, and I just wanted to say that he was amazing. He is clearly great at his job, but he truly went above and beyond to make sure our group was happy and safe, especially my boyfriend who forgot his meds at the hotel. In this crazy world, it's just nice to know we still have good, caring people! Thank you!
Jeanine And Dan F
7/28/16

We just wanted to send a note to let you know how pleased we were to reserve Dolly the Trolley with you for our wedding. Victor was one of the most pleasant and friendly people we have done business with. He made this aspect of planning our wedding effortless and enjoyable. Although the big day is months away, we feel confident that if it goes half as well as booking the limo did, it will be a wonderful day. We look forward to working with you and booking many future events. Thanks again for your kindness and sincerity!
MAKE YOUR RESERVATION
Please fill out the form below to reserve service.