ROCHESTER NY AND SURROUNDING AREAS BIRTHDAY PARTY TRANSPORTATION
Kids of all ages will love a birthday party provided by Diamonds Limousine. Call us today at
585-533-9050!
Let Diamonds Limousine's fully insured fleet handle your kids' party transportation. This means less worry for you and the kids will love it! When it comes time for your birthday, we have a certified fun chauffeur ready to exceed your expectations! We guarantee the BEST VALUE!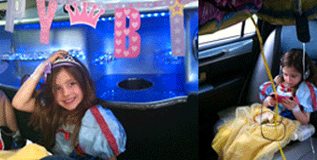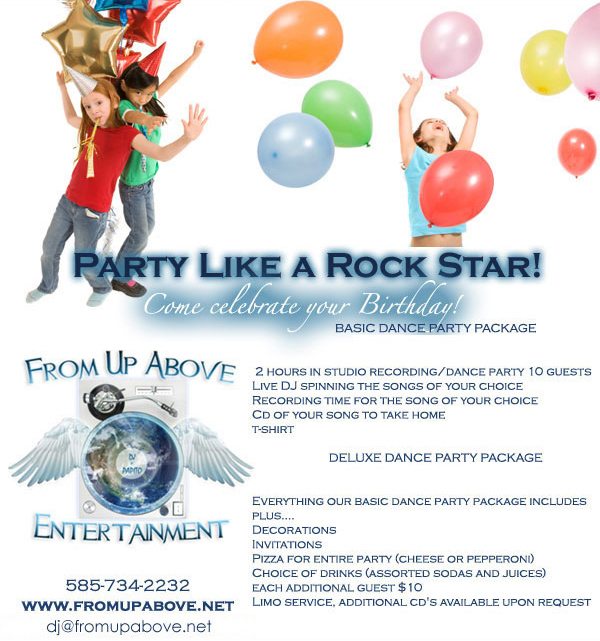 Hottest birthday in town $99 up to 4 guests
 $159 up to 6 guests
From Up Above Entertainment – Our Upstate New York DJ Company and Entertainment Service has been serving the Rochester Entertainment market for over 20 years. We DJ Parties and provide entertainment for all of Upstate NY. In addition, we also provide entertainment for events in New York City and Miami.
We also offer trips including stops at these places:
Or Create Your Own Package!
Save 10% on your next ride with us!
Send in your testimonial and pictures of your event for a $25 gift certificate for a Diamonds Limousine!
Debra Divas


I just wanted to say THANK YOU THANK YOU THANK YOU!!!! I had a surprise birthday party for my daughter who was turning 11 years old. Our chauffeur showed up on time, and I must say that he was absolutely 'Wonderful.' At first I will admit that I was thinking to myself, 'How in the heck is this guy going to handle 10 very pre-pubescent 11year old!' Our chauffeur had the patience of a saint (Even when the balloons kept flying up past the chauffeur). At first we went for pizza, and then we went to the mall for ice cream. However before the ice cream, they felt the need to drive around the mall parking lot 5 times just to wave and scream 'hi' to every person they saw, and our chauffeur being the great guy he is, was happy to accommodate them. When we left the mall, our chauffeur was right there waiting patiently ready to face more torture from my girls. When they said go, he went. When they said stop, he stopped. And I would imagine that if they said 'jump' he probably would have said, 'How high?' After two hours of this divider going up and down, windows being open and shut, balloons flying in the front, and let's not forget the repeated playing of an N*Sync CD, he stood through it all, never faltering at one moment (or at least I didn't see him). So I just want to say to all of the parents out there who have no idea what to do for their kid's next B-day party, give Diamonds a call and ask for the same chauffeur. And I would like to say to Diamonds, thank you so much for your wonderful service, and last but certainly not least, a great big thanks to our chauffeur for treating my girls like the 'Divas' they thought they were. You're the best, and you'll be hearing from me again soon!

Marci W.


Thank You for all you did to make my daughter, Claire Dehm, Sweet 16 wonderful. Tim C. could not have been nicer to the girls. I wanted to make this a day for Claire to always remember, and it surely will. From the reservation through to drop off I could not have asked for better service. Thank you!

Megan S.


I did not have a chance to let you know that the evening of June 9th for Rachel\'s crew of friends went off very well. And I still cannot believe you sent a trolley! It was perfect and the kids had a great time. I appreciate all your efforts and craziness for the night. It seems that you did a great job providing for the kids. Thanks so much you guys ! I know if i\'m in charge, that we will be using Diamonds in the future!
PREMIUM QUALITY TRANSPORTATION
FOR ALL YOUR TRAVEL ARRANGEMENTS
Serving Rochester, Buffalo, Syracuse & Upstate New York
MAKE A RESERVATION