ROCHESTER NY AND SURROUNDING AREAS WEDDING TRANSPORTATION
Sparkle in Style! If you are looking for a wedding limousine, trolley, or unique vehicle, call
585-533-9050!
We offer the Ultimate Wedding Package.
At Diamonds Limousine, we strive to make your big day as memorable as you have always dreamed. We offer the Ultimate Wedding Package, completely customized to your specific desires. You only get married once, so make sure you do it right! Call us today for more information at 585-533-9050 and get the Best Rates Guaranteed!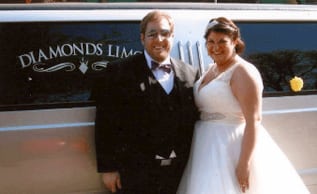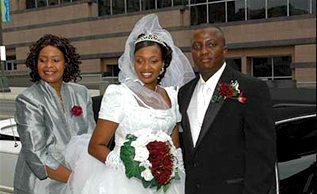 Send in your testimonial and pictures of your event for a $25 gift certificate for a Diamonds Limousine!
FEATURES OFFERED FOR WEDDINGS:
Complimentary beverages, assorted hard candy selections for your guests as well as chocolates for our bride and groom. Compliments of Diamonds Limousine.
All FREE decorations, color coordinated with Bridal gowns.
Decorations consist of: Flower poms, "Just Married" sign, assorted hard candy selections for guests, Special Chocolates for Bride and Groom, Complimentary Beverages w/bucket and stand, and
Red Carpet. Just another way that we treat you like family!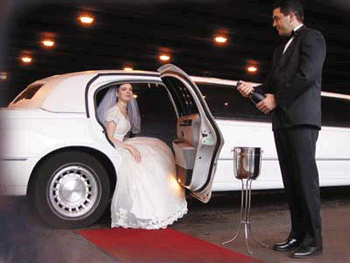 Have your wedding at the Rochester Wedding Barn & Event Venue with a Diamonds Limo Wedding Package (" . . . the hottest venue in Western NY" – NBC Dateline) Click here for more information.
Our Diamond Fleet is offering vehicles that seat 1 -6 guests. Come to our showroom and see what we can do to make your wedding day even more perfect.
We guarantee to make your day as special as you are planning it to be.
Call a Diamonds consultant to make an appointment to set up a visit so we can talk and get to know what's most important to both of you. It's all about you!
Diamonds Advice for Wedding Day Transportation
Specializing in small parties and wedding services.
To truly make your wedding an event to remember, what can be more elegant than being chauffeured in a luxurious Diamonds Limousine, seating 1-6 guests.
At Diamonds Limousine Service, our consultants will take time to carefully go through every detail to make your special day one of wonderful memories at an affordable cost.
Who gets to ride?
Its your day, plan it the way you want!
ie. 6 bridesmaids, 6 groomsmen, father and daughter, parents and daughter, etc
After reception, use one of our vehicles to get your guests back to their homes or hotels safely.
Additional Uses
Driving the bride's parents home after the reception
Driving out-of-town guests to their hotel or the airport
The Stag or Stagette party, especially if you are planning on drinking heavily
Ask your Diamonds Consultant about their "special" Canadian parties
Before You Shop:
Make sure you have all the pertinent information before you begin looking, including: wedding times, the various wedding day sites, how many people will be riding in the limos, and how many limos you will need. That way, you'll be sure that the prices you are quoted will be correct.
At Diamonds Limousine Service:
There are no "hidden costs." You are charged only for the time the limousine is reserved. There are no "port-to-port" charges (time-out of garage to time-in garage), and there are no mileage or distance fees within Monroe County, New York.
We are a well-established company with a positive reputation. Our consultants can provide names of references upon request.
We welcome you, and are very proud to have you attend a private showing of one of the best fleets in the area. A consultant will walk you through the fleet of NYS licensed and inspected delivery vehicles, demonstrating each one as well as the amenities available. Together, we will create a unique package for your special day.
Be Wary Of:
Anyone pressuring you to sign a contract before you've had time to consider it
Anyone who wants you to pay in full far in advance of your wedding date
Companies with rates significantly lower than others
Joe Ciminelli


We wanted to thank you for your services Friday night for our daughter's wedding. Sammy was a refreshingly nice gentleman who we would highly recommend – he was very professional. Please tell him we were very pleased with the job he did!

Mariah Johnstone

Upstate NY


Just wanted to thank you for everything. Our wedding was wonderful and our limo chauffeur was great and we had an amazing time!

David and Mike S.


Your company responded very promptly too my email requests and were very nice. I was very impressed. My partner and I are trying to decide what to do about limo service for our wedding. Originally we were set on a Hummer limousine. Now we are rethinking because of the cost and what we really need it for. We have between 10-12 people that would need transportation the day of the wedding. We are wondering if a nice stretch limousine would be better and more cost effective? I am very impressed with the service that I have received just via email correspondence. There are a couple companies I have checked with that haven't even bothered returning calls. Thanks for the great customer service!

Kathleen M.


I just wanted to let you know how very pleased we were with Mike I hired your limo to transport my elderly relatives to my son\'s wedding reception. Most of them had never been in a limo before and were thrilled. Mike was so kind to help them in and out as well as escorting them from the ballroom, onto the elevator and into the coach. One 89-year-old woman nearly fell backwards out of the coach and mike literally caught her in his arms, averting a real catastrophe. Thank you so much!

Michelle

Rochester Bride and Groom


Just want to tell you how impressed my husband and I were with our limo service Saturday night. Patrick was very polite and accommodating. The limo was very clean, well kept and huge!! I'm very pleased to be representing such a great business.
PREMIUM QUALITY TRANSPORTATION
FOR ALL YOUR TRAVEL ARRANGEMENTS
Serving Rochester, Buffalo, Syracuse & Upstate New York
MAKE A RESERVATION