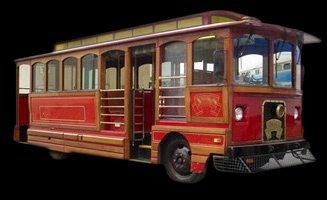 Joey the Trolley
24 Guests

Full Vintage Trolley Interior
Nick and Marcia Mendola
8/11/17

Our family of 24 (all wearing matching safety green t-shirts) enjoyed an awesome day riding in historical Joey the Trolley. Our friendly and very capable chauffeur Blanche took us to memorable spots between Pittsford and Charlotte pertinent to our 70-year friendship. We were thrilled to renew our vows at St. Michael's Church (corner of Clinton and Clifford) where we were married exactly 50 years ago that weekend. Passing cars blew their horns and pedestrians waved. Our grandchildren ages 4-20 said it was as much fun as our family trips have been to Sea Breeze Amusement Park. Thank you for offering such a unique event enhancing and memorable service!
Edith Farrington
8/11/17

Courtney came out yesterday with the Trolley for our rides. We were very pleased and Courtney was a wonderful chauffeur for us; both professional and personable. Thank you.
MAKE YOUR RESERVATION
Please fill out the form below to reserve service.
Call Today!